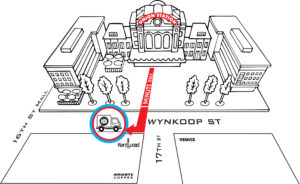 Our mobile bag check is located directly across the street from the front of Denver Union Station.
Call us for a pick-up from Downtown Denver: Union Station, Hotel or Air-BnB
Phone: (303) 747-5600
Walk-ups to our mobile bag check always welcome!
HOURS
9am-6pm Everyday
After hours until 9:00 pm
Before hours starting at 8:00 am
Overnight and weekly storage also available.